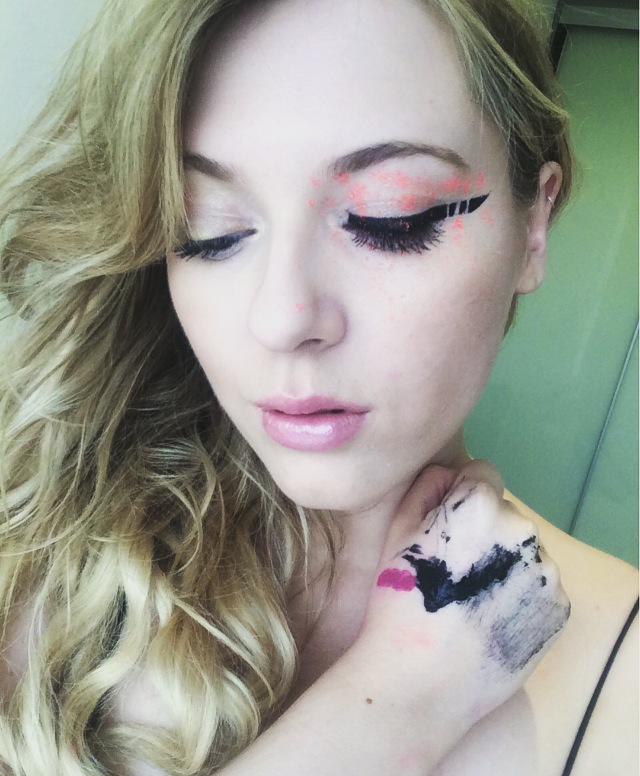 Wearing Mac's Blacktrack Fluidline and Neo-Orange Pigment. 
I'd hate to admit it, but my hand in that picture is pretty much how it looks day to day. It's like wearing a semi-permanent tattoo that somehow transfers over all my clothes at the end of a long day. I wash them ALL the time and it still happens. In fact, this morning I woke to find some of my hair was red. I racked my brains to figure why and then it came to me….last nights neon red lipstick I smothered all over my chops. But you know what, when I do make-up I usually go ALL out…but what about those that feel a little intimated by huge draping and splatters of colour and want that "I've pretty much got nothing on but I'm deceiving you" look?
A L L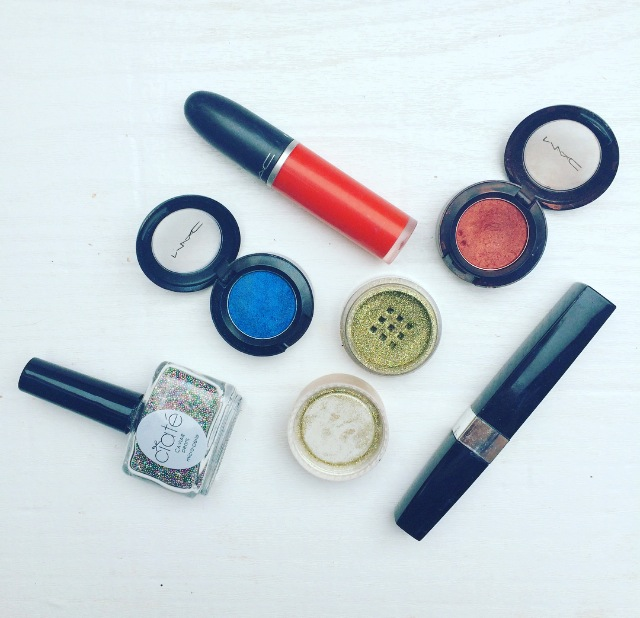 Products Above: Ciate Nail Art pearls , Eyeshadow Pans in Coppering and Freshwater, Retro Matte Liquid Lipstick, Gold Glitter with Glue Bottom, Imitable Intense Mascara. 
For those "Allers", yep, my new coined name for you folks. I hand on heart hail you for your incredible ability to express whatever you want externally and to play, play, playyyyyyy with products, colour and textures. You, my friends,  are pretty much the creators of all the trends for testing these out first-hand and giving people afraid to try a little variety and support in their make-up journey.
If you've read my posts before, you'll know I was scared to try new things and embrace being different but it takes courage and a little inspiration to learn to embrace it. I pretty much spent a hell load of my pocket money as a kid on every magazine each month and was totally obsessed with Molly Ringwald in Pretty and Pink and Costume Designer Patricia Field that i wanted to take on my scoop on fashion via makeup.
So if you're like me and you're up for trying pretty much anything, i give you a few new products i'm dying to try and i think you Allers might vibe off too….
I don't really know where to begin with this brand. I'm just in deep, non apologetic love with them. Firstly, they're cruelty and Vegan Free and the colour options are beyond what you'd find in the high street. These Perlees Lipsticks are perfect for the metallic trend and are so long wearing you could bend down and kiss the floor for Lime Crime bringing them out. My personal favourite shades from this selection are; Beetle, Penny and Roswell
Not long ago my Instagram feed was bulked up with images of this brands lipsticks and I thought it was a joke. Ever wanted a Jelly formulated lipstick with flower petals inside? Not only is it probably the most beautiful lipstick I've ever glimpsed my eyes on in a feed scroll, but they're in such high demand right now, they're all out of stock! So get ordering now if you want a lipstick that's ALL out there.
I'm sorry, was that Rainbow, i repeat, Rainbow highlighter i just read? Yeah you did! Highlighters hit the web once the strobing trend was going stronger than me struggling to lift the lightest weight at the Gym, but now they are selling them for you Unicorn Lovahs out there. They are taking pre-orders with a waiting list now because everyone wants to grab there hands on them! So for the meantime, feed your highlight addiction with some of Anatastia Beverly Hills Moonchild Glow kits in Pastels and warm sun-dripped tones.
N O T H I N G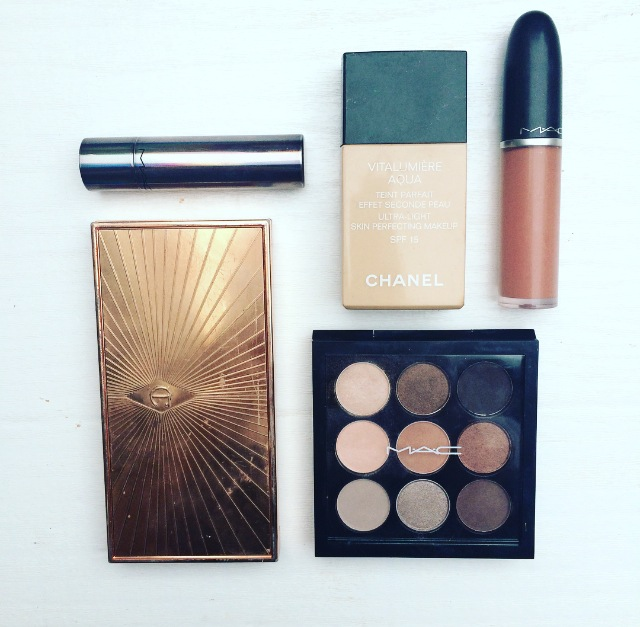 Products above: Filmstar Bronze & Glow, TenderTalk Balm, Retro Matte Liquid Lipstick, Dusty Rose Pallette x9, Vitalumiere Aqua Foundation.
I've always thought there is something deeply beautiful about that "non-makeup, makeup look", that's been worked on to face perfection. It's a real science to find the right tones suitable to your skin and eye colouring and once you've nailed it, you can rock it so hard, people just think you're born that way, regardless of Maybelline.
If you want, easy, ready to get out that door Makeup that makes you look like a more "i've had an amazing 9 hours of sleep in the tuscan sun" version of you, then i've got some gems for you guys…
If you're someone struggling to find that "perfect" lip shade, Tender talk balm has got this problem solved to a T. The lipbalm is so moisturising and gives you a unique, personalised tint that subtly enhances your natural lip colour. I wear "Candy Wrapped" and every time I wear it, I am so amazed at the natural pink hues it really brings out of my own lip colour. Say bye, bye lip liner, and hello Tender Talk.
This palette is so perfect for playing around with neutrals that will suit ALL skin tones and eye colours. It's such a universal palette that will see you right through the summer this season. It gives you a choice of shimmer and mattes with cool taupey greys and warm coopers that will lightly give you that enhancement you're looking for.
This is just the perfect way of lightly adding a little enhancement on the lashes without going for a false lash look effect. Its pretty much a kit in one, where you're provided with lash curlers, a Kohl pencil and the first launch of the CT Mascara range that will keep them looking real but a little thicker. This is great for a wiser woman, or someone that just wants to add on what they already have without looking over done. Her range also caters to those that do want a false or dolly lash look….so try out the fat lash first…and then work your way up to lash perfection.
So whether you're an All or Nothing-(er), rock your look and swap it around from time to time. As someone once told me "it's only make-up, it wipes off!".